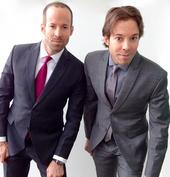 Author: Scott Petullo

Company: Mystic Twins, Scott Petullo and Stephen Petullo

Region: Las Vegas, Nevada, U.S.

Website: www.spiritualgrowthnow.com

Memorable Quote 1: We are convinced, through over 30 years of combined study and empirical research, that at least 75% of the significant themes and events of everyone's life are predestined.

Memorable Quote 2: In our view, predetermination (i.e., personal fate, or personal destiny) also includes, but isn't limited to, the overall direction of your life, general inclinations, types of personality challenges, love life situations, rewards, recognition, key events and even specific souls with whom you will interact. This all appears to be arranged before you incarnate.

Author Comment / Biography:
Identical twins Scott Petullo and Stephen Petullo offer vital, yet sensible and practical spiritual guidance and tools, including their Spiritual Detox and Let Go MP3 meditation audios. Get their free report: 13 Spiritual and New Age Myths and 13 Other Spiritual Laws Besides the Law of Attraction. http://www.spiritualgrowthnow.com
Articles by Scott Petullo
141. Vital Spiritual Advice - How to Use Gratitude to Change Your Life
May 13, 2013

Gratitude is a powerful, even magical tool that you can use to improve your state of mind, deal with challenging situations, be?more optimistic, and even transform your life.

When you accept a situation you can't change, and even express gratitude for what it is teaching you, the situation ...




142. 5 Tips to Banish Love Life Hell From Your Life
April 29, 2013

Everyone wants to be free of love life problems, but few seem to be able to maintain satisfaction in this area of life.

Though following the advice below may not immediately reward you with the love life you dream about, instead we believe it's possible to create a good alternative in the me...




143. How to Deal With Skeptics of Spirituality
March 18, 2013

Long gone are the days when someone could easily be committed to a mental institution, or worse, simply for speaking up about their ability to perceive auras, past lives, or the future. Thank God. More and more people are receptive to metaphysical subjects, but still, you need to watch what you say....




144. The Truth About Find Your Soul Mate Now Programs
March 04, 2013

You've probably come across love life promotions such as, "Hey, vulnerable, uninformed, desperately lonely person, find your soul mate in 30 days or less and delude yourself that you two are even moderately compatible because anyone is better than no one. It's such a terrible thing to be single, rig...




145. Numerology and the Number One: What Those With a Lot of it Enjoy
February 18, 2013

Since the late 1980s, we've developed our spiritual theories that stem from empirical study in conjunction with a very complex system of checks and balances involving handwriting analysis, intuition, and comprehensive astrology and numerology.

Personality, key life circumstances, and timing ...




146. Singles Rejoice: 11 Valentine's Day Spiritual Tips
February 04, 2013

Valentine's day can be a wonderful day for happy couples. But what about everyone else? We don't mean to be a downer for those of you who are romance fans, but it can be one of the most depressing days of the year for a large percentage of the population that is single or unhappily involved. Below a...




147. 5 Predictions: The Distant Future of Dating and Relationships
January 21, 2013

Imagine living in a society where everyone was extremely psychic, and also fully embraced the tenets of karma, fate, and reincarnation. What would your love life be like?

What follows is how we perceive things will be in 500 or more years, and also, according to our past life regression empi...




148. 5 Ways Dating and Relationships Will be Different in 500 Years
January 10, 2013

Whether you call it a hunch, gut instinct, intuition, sixth sense, or just knowing, everyone has at least some psychic ability, even if they don't acknowledge it. The more psychic you are, especially if you trust your judgment, the easier it can be to prepare for and navigate through the tribulation...




149. Spirit Possession: From Mild to Severe
December 26, 2012

Spirit possession has become a more popular topic in recent years due to it being featured in popular media, including TV shows and movies. Although extreme cases make for more potent entertainment, they aren't very common in the real world. Below we describe the other levels of possession so you kn...




150. Dealing With Difficult People From a Spiritual Perspective--5 Tips
December 10, 2012

Strife is a fact of life. No matter how much you try to get along with certain individuals in your life, disharmony prevails. It's like they are driven by a demonic lord to make your life difficult.

Good news! You can't rid yourself completely of the bad apples in your life, but you can chan...