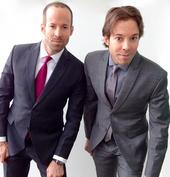 Author: Scott Petullo

Company: Mystic Twins, Scott Petullo and Stephen Petullo

Region: Las Vegas, Nevada, U.S.

Website: www.spiritualgrowthnow.com

Memorable Quote 1: We are convinced, through over 30 years of combined study and empirical research, that at least 75% of the significant themes and events of everyone's life are predestined.

Memorable Quote 2: In our view, predetermination (i.e., personal fate, or personal destiny) also includes, but isn't limited to, the overall direction of your life, general inclinations, types of personality challenges, love life situations, rewards, recognition, key events and even specific souls with whom you will interact. This all appears to be arranged before you incarnate.

Author Comment / Biography:
Identical twins Scott Petullo and Stephen Petullo offer vital, yet sensible and practical spiritual guidance and tools, including their Spiritual Detox and Let Go MP3 meditation audios. Get their free report: 13 Spiritual and New Age Myths and 13 Other Spiritual Laws Besides the Law of Attraction. http://www.spiritualgrowthnow.com
Articles by Scott Petullo
61. How to be More Magical
July 04, 2016

You've probably felt magical many times--those moments when time seems to stop, you feel like you can do anything, and all is well in your world.

Unfortunately, due to the pressures from everyday life and being pulled in multiple directions at once, being more magical is one of the last t...




62. Demons Are Real--Three Stages of Tackling Them
June 20, 2016

More than twenty-five years ago, we didn't take demons and evil spirits seriously and were skeptical of the idea of dark and demonic energy.

Today, having pierced the veil that separates the mundane world and the higher and lower planes long ago, we deal with entities of various levels, fro...




63. Astrology: Wedding Day is Irrelevant
June 06, 2016

The prevailing view involving modern marriage and astrology is that both individuals surely must have stellar love life timing at the time of the ceremony because marriage always equates to true love.

Regrettably, this is false.

Time and time again, the results of our empirical res...




64. Predestined to Love Again--Love Connections are Destined
May 23, 2016

Almost everyone who lost a romantic partner or missed a love life opportunity has wondered if they will ever experience another rewarding love life connection. It's an exceedingly common concern, especially for those, such as divorcees or widows, finding themselves single for the first time in years...




65. "There is Nothing After This Life," or is There?
May 09, 2016



A family member recently told us, "When you're dead, you're dead. There's nothing after this life."

Everyone has their own opinion, but that surprised us considering all we've written about the subject, and since she hadn't told us her true views before.

We strive for impar...




66. Spiritual Attack Differs From Demonic Possession
April 25, 2016

Psychic (spiritual) attack is quite different than being possessed by disembodied souls or worse, one or more demons.

The problem is that it's easy for the inexperienced to completely overlook the cause of the trouble, or to confuse spiritual attacks and possession.

Below we explain ...




67. Tricks to Meditate Better
April 25, 2016

Meditation seems challenging to many people, and rightly so. It requires steadfast discipline, yet the benefits of regular meditation are extraordinary, including peace of mind and even enhanced physical health.

Below we include questions from someone who wants to meditate more effectively...




68. Ghosts and Demons: Our Response to Doubters
April 25, 2016

Demonic possession, lost souls, and our philosophies about the topics are controversial, based on the feedback we receive.

Over twenty-five years ago, we were hesitant to embrace the concepts of unseen demonic influences and lost souls, otherwise known as ghosts. But today, we fully accept t...




69. Improve Your Sex Life With These 39 Magic Affirmations
April 25, 2016



Have you ever utilized the power of positive affirmations?

Some say you can reach any goal, including improving your sex life, with positive thinking. Though we believe some things are out of reach no matter what you do, positive affirmations can help you with what is within reach. ...




70. Free Will vs. Fate -- Story of Three Spiritual Aspirants
February 29, 2016

The fate vs. free will debate involves three main points of view. Either you believe everything is fated, nothing is fated, or somewhere in between.

Below we outline the three general belief systems regarding fate vs. free will represented through three separate spiritual seekers.

...