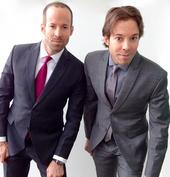 Author: Scott Petullo

Company: Mystic Twins, Scott Petullo and Stephen Petullo

Region: Las Vegas, Nevada, U.S.

Website: www.spiritualgrowthnow.com

Memorable Quote 1: We are convinced, through over 30 years of combined study and empirical research, that at least 75% of the significant themes and events of everyone's life are predestined.

Memorable Quote 2: In our view, predetermination (i.e., personal fate, or personal destiny) also includes, but isn't limited to, the overall direction of your life, general inclinations, types of personality challenges, love life situations, rewards, recognition, key events and even specific souls with whom you will interact. This all appears to be arranged before you incarnate.

Author Comment / Biography:
Identical twins Scott Petullo and Stephen Petullo offer vital, yet sensible and practical spiritual guidance and tools, including their Spiritual Detox and Let Go MP3 meditation audios. Get their free report: 13 Spiritual and New Age Myths and 13 Other Spiritual Laws Besides the Law of Attraction. http://www.spiritualgrowthnow.com
Articles by Scott Petullo
51. Spiritual Tips That Are a Waste of Time
November 20, 2016



There's no shortage of spiritual information online. Seek answers, and you shall find helpful information. But you'll also find plenty of spiritual advice you should ignore.

We started exploring metaphysical and spiritual subjects over thirty years ago. In our exhaustive searches a...




52. Ways Your Existence Will Change In Heaven
November 06, 2016

Based on life-after-life accounts from past life regression, the research of Stafford Betty, and Near Death Experiences (NDEs), the afterworld is quite different than life on Earth. One main reason is that you, or your soul, is no longer confined by the limits of your body and mind.

The l...




53. Ways Your Reality Will Be Different in Heaven
October 24, 2016

Based on our experience with past life regression, life-between-life regression, documented near death experiences, and the after life research of Stafford Betty, we believe there is nothing to fear about death.

When you shed your physical body, your soul moves on to a different dimension. O...




54. Spiritual Power: Mysticism in Five Stages
October 09, 2016

The five stages of mysticism aren't as complex as you may think. Contrary to popular belief, you don't have to have a long mane of white hair and live in an exotic, remote part of the world to be a mystic.

The American Heritage dictionary defines mysticism as "...consciousness of transcenden...




55. Numerology Universal Year and the Date 9-9-2016
September 26, 2016

September 9, 2016 is a date of significant mystical meaning, as are the dates September 18th and 27th, 2016. The Universal Year of nine occurs this year, as it does every nine years, and nine is a number with great occult meaning.

The Universal Year (e.g., 2016 = 2+0+1+6 = 9) peaks each ye...




56. How to Tell if Someone is Possessed
September 12, 2016

How can you tell if someone is possessed? Does possession really happen, or is it a myth?

When we mention possession most people express skepticism or fear. Thanks to scary movies and novels, demonic and spirit possession seem like either science fiction, or something one has no control o...




57. Meditation: Separating Lies from Truth
August 29, 2016

The truth about meditation is quite different from what the average, inexperienced person thinks of it. Public opinion is shaped by a lifetime of societal influence, such as through Hollywood comedies, written by people who know little about meditation, that lampoon meditation and other "kooky" sp...




58. Spirit Possession or Brain Disturbance--You Decide
August 15, 2016

Severe possession by lost souls and sometimes even demonic entities is, we believe, a serious yet largely overlooked problem.

Spiritually sensitive and otherwise susceptible people, such as abused children or people who abuse alcohol and, or use drugs, can unknowingly be a host for all sor...




59. A Spiritual Approach to Coping With Loneliness
August 01, 2016

Everyone has phases in their life when they feel lonely, especially if they are different or unwilling or unable to conform and follow the herd.

For example, for spiritually sensitive people, who see the world differently and often perceive what most other people don't (e.g, the truth behi...




60. Celebrities Who Need a Spiritual Clearing
July 18, 2016

It's hard enough dealing with unseen, toxic energy while living a quiet life, especially if you're spiritually sensitive. Lost souls and dark energy are everywhere, thus it's important to periodically clear the spiritual debris and protect yourself. Most people would benefit from a Spiritual Detox...